When it comes to who has influence over my kids,  sports idols rate very high. We are a SF Giants fan family – and my twins were lucky enough to play in 2 years of Little League where there team was called the "Giants".  So of course the SF Giants have a huge impact on my sons. Their dedication, hard work and teamwork are something I remind my sons to model in their own life. The ESRB is an organization that not only assigns content ratings for computer and video games, but also helps parents understand the content each game.  When I was invited to press event with the Giants and ESRB about a new PSA  (public service announcement) campaign educating parents about the video game rating system – that was a "home run" event for me not only as press but as a parent. Of course, I had to bring my boys with me (it was my own unofficial bring your kids to work day!)..
The PSAs," which feature the players explaining the ESRB rating system and encouraging parents to use it when buying games for their families, will begin running on television and radio stations throughout Northern California as well as on the video display boards in AT&T Park during Giants home games."  The representatives at the event were Buster Posey – San Francisco Giants catcher,  Ryan Vogelsong – San Francisco Giants pitcher joined Patricia Vance – President ESRB, Michael Gallagher – President and CEO of the Entertainment Software Association, Jack Tretton, president and CEO, Sony Computer Entertainment, Laurent deToc – Executive Director for North America, UbiSoft,  other ESRB and Giants representatives and Families from Junior Giants.

Patricia Vance welcomed everyone to press event with Buster Posey,  Ryan Vogelsong and reps from Sony Computer Entertainment, UbiSoft,  Entertainment Software Association and ESRB representatives:
Buster Posey shared information about the Giants/ESRB public service announcement:
Ryan Vogelsong also shared information about the Giants/ESRB public service announcement::
The PSA was shown, one of the scenes shows the ESRB mobile app – which I use all the time to help me with finding out ratings information on the go: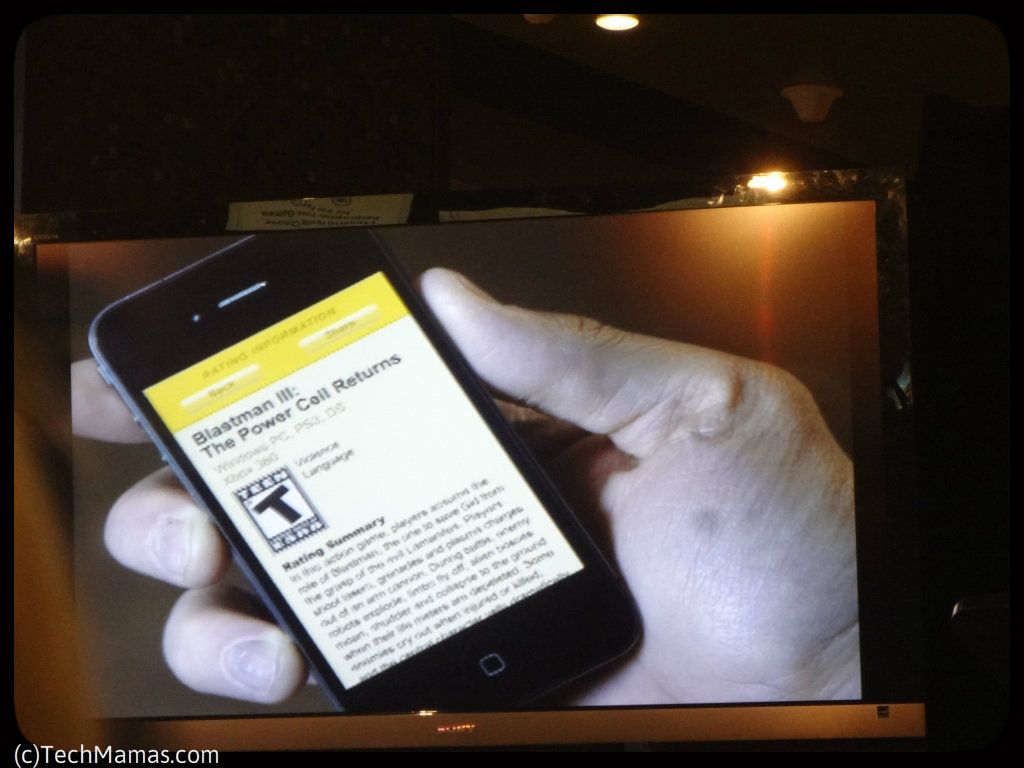 The PSA also had Buster Posey and Ryan interacting with the kids with an age appropriate, which is positive reinforcement for kids to play games appropriate for their age:
After seeing them play the baseball video game on the public service announcement, my twin sons of course had to check out the new MLB® 12: The Show™ for PlayStation®3 (PS3™)  game that was set up at the event. That is – after checking out the ESRB rating:
My teen knows that he can play games with the ESRB rating "T" for Teen or below. My 9 year old can play the games rated "E" for everyone. They were both holding pictures of the games as examples, showing off the ESRB ratings on the bottom left:
Then we had the opportunity to head out to AT&T stadium area, one of our favorite places to be because it is where the SF Giants play!:
They gave the press more opportunities to see the games and rating examples:
Then the local mom bloggers got together for a picture: Left to right – Adel Vardell (HappaMama), Beth Blecherman (thats me – TechMama!), Kimberly Kauer Postlewaite (Silicon Valley Mamas), Lia Frietas (Mama's Starting Over), Patricia Vance (ESRB), Ana Picazo (Finding BonggaMom), Perrin Kaplan (Zebra Partners). On bottom row: Kari Dahlen (The Karianna Spectrum). Taking the picture: Michele Spring Fajeau (Zebra Partners).
My sons were beyond excited when Buster Posey (San Francisco Giants catcher) not only shook their hand but posed for a picture!
Just to "knock it out of the park", Ryan Vogelsong  (San Francisco Giants pitcher) also gave my super SF Giants fans a handshake and a picture:
The official press release is below. My boys never knew that computer and video game ratings could be so much fun!
Disclosure: This was a press event. All of my words are my own.
Camera used: Pictures taken with Sony Cybershot WX9
PRESS RELEASE: