While at CES 2014, I had the opportunity to learn more about the new Whirlpool innovations. The concepts are exciting because they will not only add more functionality and control over my kitchen but also enable me to be more productive. Listed below is a summary.
Interactive Cooktop:  One of the most exciting demos was of the Whirlpool interactive cooktop concept which turns a simple surface such as a cooktop into a multi-functional information, cooking and entertainment space.  For example, while I can cook anywhere on the surface I can also browse the internet to pull up a recipe to view on the same surface! While entertaining, I can cook while checking the guest list online.  Combing the functionality of a cooktop with digital connectivity will enable a busy mom like myself to be much more productive in the kitchen.  With three "always hungry" boys I spend lots of time in the kitchen so I need all the help I can get! The Interactive Cooktop concept would also allow me to have less devices in the kitchen but still have access to digital connectivity on capacitive touch surface or hands free when needed.
Here is a Whirlpool video about the Interactive Cooktop:
Connected Appliances: Whirlpool also introduced a digitally integrated suite of appliances and smartphone app that would not only give me more control in the kitchen, but also on the go. Because my appliances would be connected via a WiFi network, they can be controlled via a smartphone. This would allow me to do things such as saving energy by using my smartphone to run my washer during the right time of day, even if I am not at home.
Here is a video that explains more about Whirlpool Connected Appliances:
Designer Duet Series:  The Whirlpool Designer Duet series goes behind the simple solid colors to allow for personalization such as paisley or chrome bubbles. This type of customization is exciting because it would enable me to bring some stylish touches into my laundry area.  The Duet series also has technology to help whoever is doing the laundry (hint, hint to my older sons who need to start doing their own laundry!).  The Adaptive Wash Technology in the Duet® washer automatically selects the cycle settings for every load and Advanced Moisture Sensing technology in the dryer prevents over-drying clothes by sensing how long the dryer should run (and also saves energy!). I could even use the Whirlpool WashSquad app to assign laundry tasks to my sons!
Here is a Whirlpool video on the Designer Duet series:
The CoolVox™ sound system refrigerator concept (available Q2 2014) extends the functionality with wireless Harman Kardon Speakers built in that are not distrupted when the doors are closed! This would allow me to listen to music or podcasts from my mp3 player, tablet, smartphone or computer (Note: "Only one device can be paired to CoolVox™ at a time"). I can also use apps such as Pandora, Spotify or my playlists.
Here is the Whirlpool video on CoolVox:
Since Whirlpool 20/20 is all about a future focused on you, we, want to hear your ideas for it. Leave a comment below telling us your idea for the future for your home and be entered to win a $1,000 grand prize.
Sweepstakes Rules:
No duplicate comments.
You may receive (2) total entries by selecting from the following entry methods:
Leave a comment in response to the sweepstakes prompt on this post
Tweet (public message) about this promotion; including exactly the following unique term in your tweet message: "#SweepstakesEntry"; and leave the URL to that tweet in a comment on this post
Blog about this promotion, including a disclosure that you are receiving a sweepstakes entry in exchange for writing the blog post, and leave the URL to that post in a comment on this post
For those with no Twitter or blog, read the official rules to learn about an alternate form of entry.
This giveaway is open to US Residents age 18 or older. Winner will be selected via random draw, and will be notified by e-mail. You have 72 hours to get back to me, otherwise a new winner will be selected.
BlogHer will pool entries from participating blogs and select a sweepstakes winner at random and will contact the winner with details about fulfilling the prize.
The Official Rules are available here.
This sweepstakes runs from 1/2/14 – 1/18/14.
Disclosure: This is a sponsored post. All of my words are my own.

Attending this year's 2013 CES helped me conclude that there is hope for my house and my exercise routine to become even more efficient and enjoyable. In the past, companies would showcase their products with a general message of "here's this new high tech thingy". This year the messages focused more on value, communicating "here is how you can simplify your life by using this new technology".  I have been waiting to hear the word simplify for years. If new tech adds any additional steps to my daily routine, then it does not fit into my busy life as a mom. But if it helps streamline and automate any of the processes I do each day – then that is technology I will embrace in a heartbeat. I will be covering my picks for CES 2013 top trends over the next few weeks. Here are some of the top tech trends from CES that will simplify (and automate) the life of any mom.
1. Mobile Health Tech:   Fitbit, Fitbug, iBitz and Withings (to name a few) offer activity, sleep, medical and weight management information automation as well as environmental feedback (i.e. The Withings scale also measures indoor air quality). Utilizing mobile health tech will help me get the information I need for weight and health management from mobile devices so I can just incorporate it into my day.
2. Home Monitoring (from your smartphone!): Dropcam is a HD Wi-Fi monitoring video camera that not only remotely captures and monitors activities in a whole room, but also can send alerts for movement or loud noises.
3. Mobile Home Lighting Control:  The Belkin WeMo line has a new internet connected  Light Switch that remotely controls household lighting from the internet via a WiFi router and an iOS device (v5 or higher). Android 4.0 device (or higher) compatibility will be enabled "shortly after launch".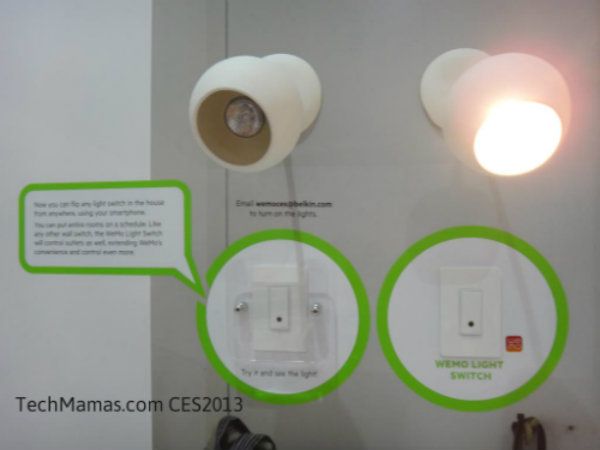 4. Streamlined and Connected Kitchen:  Smart Appliances were a top trend at CES 2013. At the Whirlpool booth I saw kitchen concepts that could help me automate some of my key daily challenges. Fresh Connect from Whirlpool would allow me to reorganize the way I store and shop for food by grouping foods that need to be stored in similar temperatures together and automating my shopping with mobile apps and home delivery to my front door.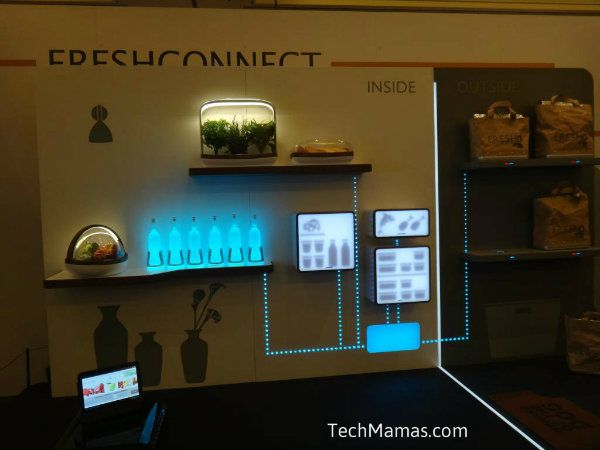 Whirlpool Appliances with 6th Sense Live will allow me to manage my appliances remotely (such as a refrigerator's temperature or when a wash cycle is done) and because it would be connected to the Smart Grid I could save energy costs by tracking my usage and remotely running wash cycles at "off peak" times.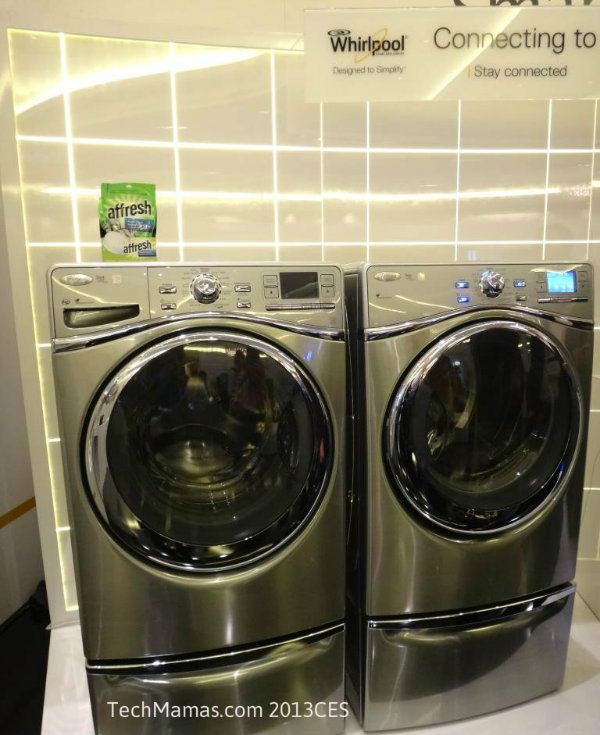 Two concepts adding new functions to appliances would be the Whirlpool Cool Vox that streams music or podcasts through the refrigerator directly from a Bluetooth-enabled device and The Fireplace concept that could turn the family kitchen table into a social "Fireplace" that also warms food or keeps it cool.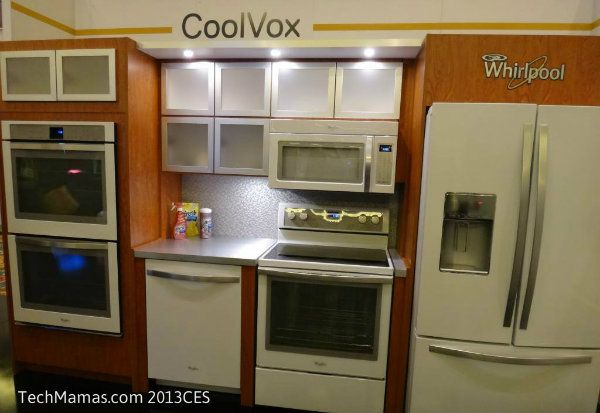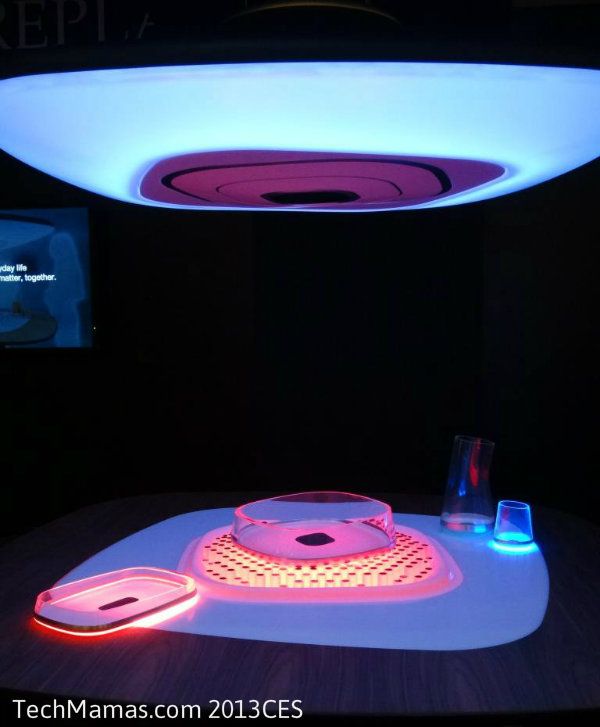 5. Home Information Automation: About One is an online tool/app that utilizes the existing calender and contacts to not only organize household information (inventory management, school info, medical info etc) but also offers " reporting, alerts and private sharing". New announcements at CES 2013 include partnerships with Swagbucks for gamification real world rewards and Working Mother  to "gather product feedback from Working Mother readers, who will then be alerted when their requested product updates have been implemented".
Disclosure: This is a sponsored post. All of my words are my own.

On my last post I discussed how our family kitchen is the activity hub of our house. So of course one of the top tech categories I planned to look into at CES 2013 (Consumer Electronics Show) was new kitchen concepts. Now that I am here are CES, I was excited to find some fantastic new kitchen concepts that will not only simplify, add more style, save energy, add new options to listen to music but also change the process of buying and storing food in the home.
While at the Whirlpool CES Booth, I had the opportunity to learn about exciting new concepts. The first is something I would call "Fireplace 2.0! The Whirlpool website explained that "The Fireplace concept which seeks to center people around a new central heart of the home with a common area for relaxing and sharing real experiences around food and fire". I find this concept the most fascinating of all because it takes the experience of socializing around a fireplace or campfire to the kitchen table. The surface could keep food warm or cold, as well as an air circulation system in the hood. Because the kitchen table is the one place many families gather each day, adding new features to it adds value to home design and enhances family time. The new technology would also enable new social eating experiences, such as fondue to smores, right from your kitchen table.
Here is a picture of the Whirlpool "Fireplace" Concept.
Kimberley Clayton Blaine  (TheGoToMom) and I could already see how the fun it would be to socialize around the Fireplace concept table.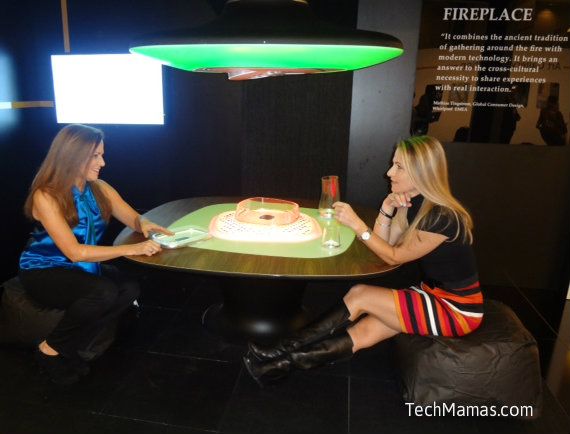 I had the opportunity to join in Fireside chats in the Fireplace concept area of the Whirlpool booth with other social media moms and Tanu Grewal, Senior Brand Manager from Whirlpool. We were all so comfortable, we did not want to leave even after the chat was over!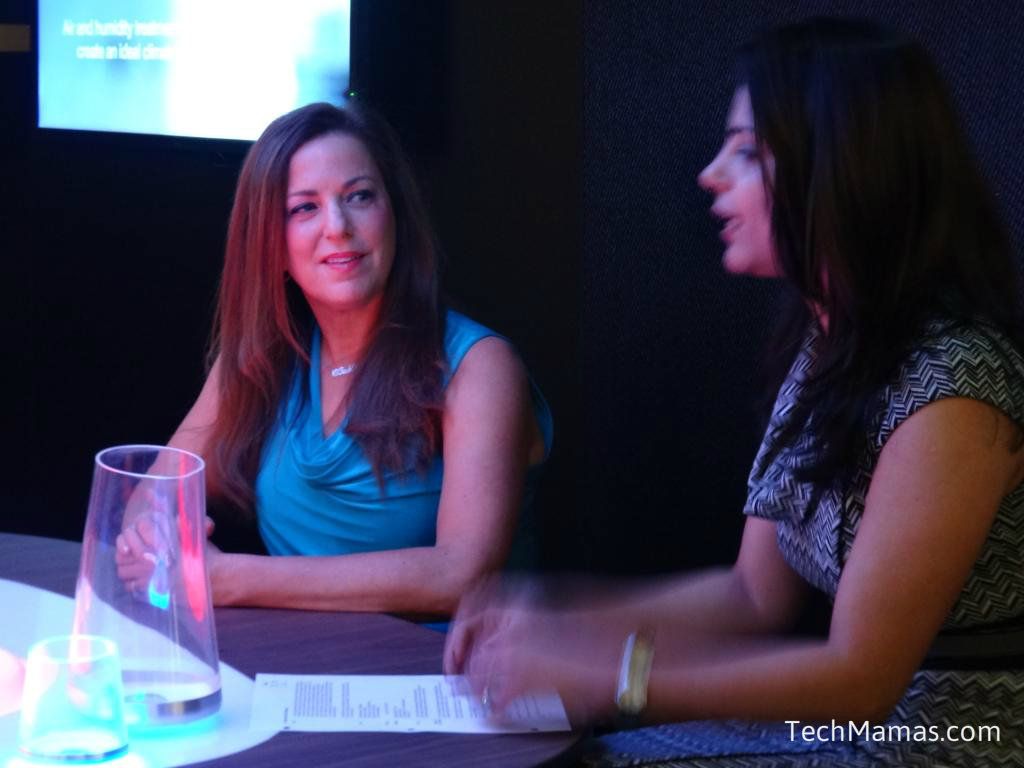 When I saw the Fresh Connect from Whirlpool section of the CES2013 Whirlpool booth, I realized it could not only help families keep food fresher but also change food storage as a whole. What if you could have separate units to store food, each paired with other food that requires the same temperatures (no more frozen lettuce)? We can already order food from our mobile devices, but what if we had a system at home that let us order food that would be delivered in bags that would keep it fresh until we got home? The Fresh Connect concept would help create "a seamless shopping experience from the palm of your hand to the foot of your door.. and streamlined access to a select network of food suppliers".

Here is picture of the Whirlpool Fresh Connect concept flow: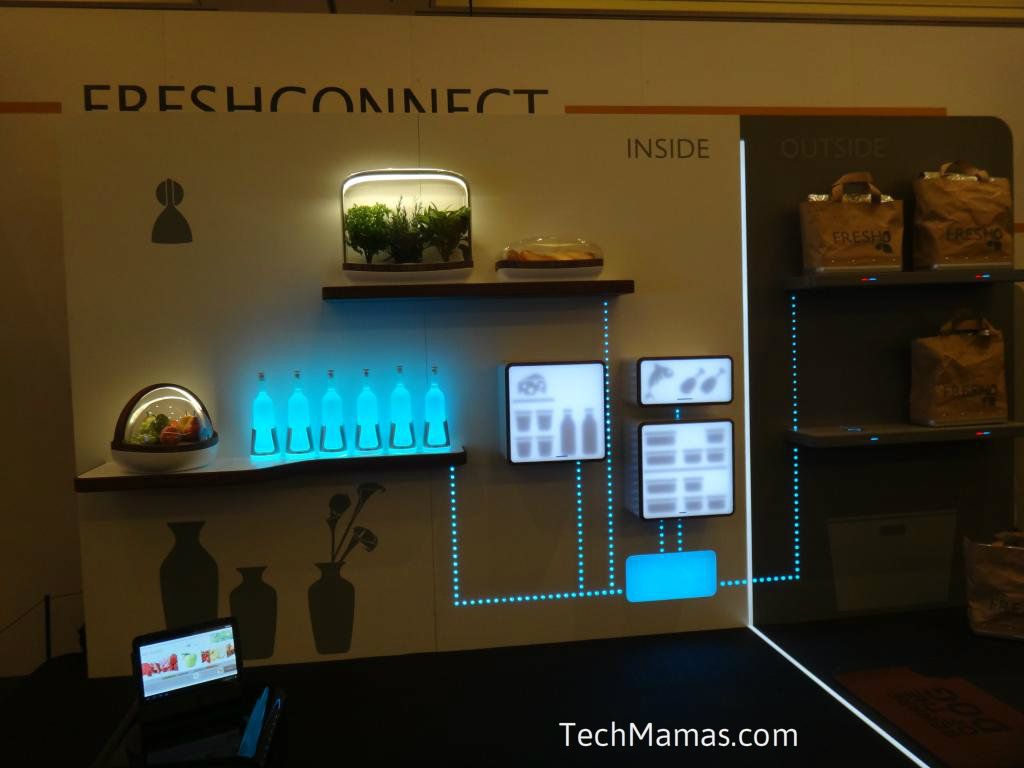 Food is not only organized by the temperature needs, but also in a modern style that could take food storage out of the kitchen into any room in the house. My sons would love to have food storage of their snacks in the family room!
This concept could also create spaces to grow herbs from inside the house. This would enable us to finally grow herbs without the little critters that live outside from eating it!
Containers would store fruit in a temperature that would let it ripen but keep it fresh. This concept would enable me to buy more fruit without worrying about it going bad (and my boys eat lots of fruit!).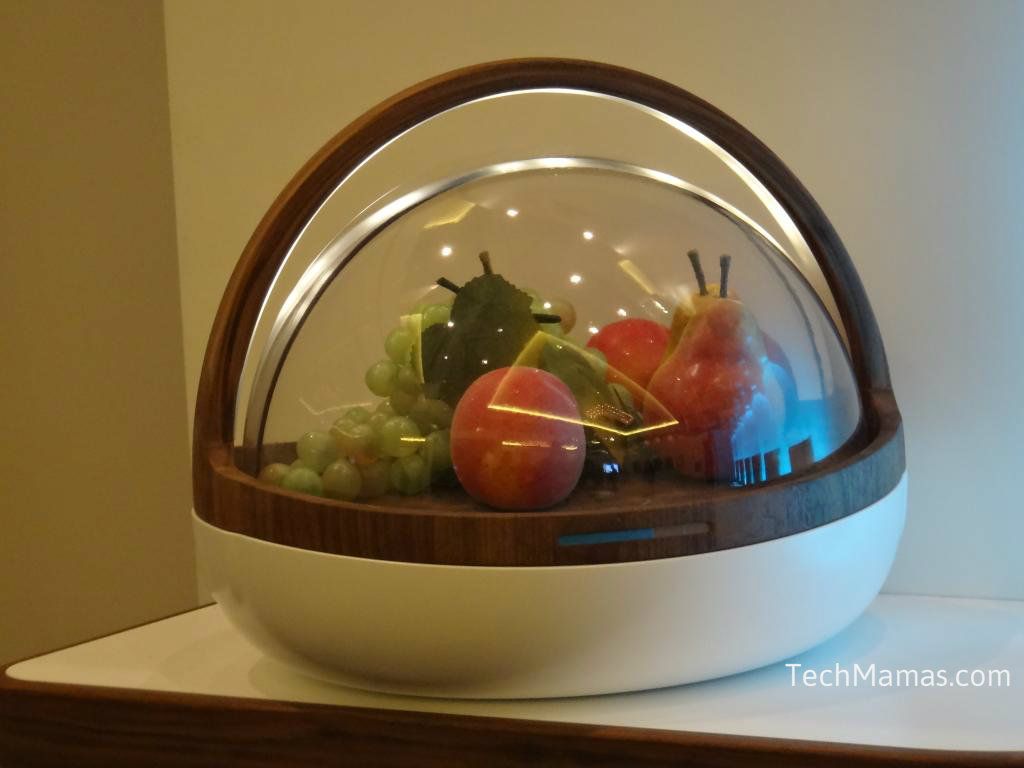 Apps could be used from any mobile device to order and manage the food in your house. This would enable a process for me to schedule food delivery and plan meals.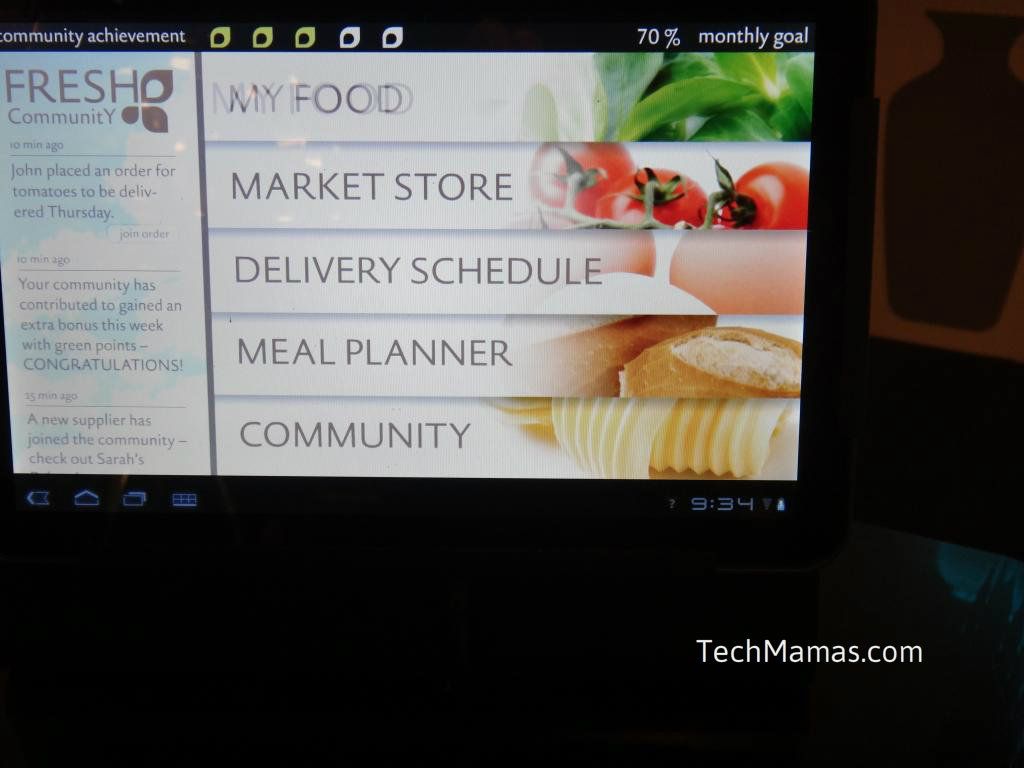 Another concept that enables families to manage their home from anywhere is the Whirlpool® Appliances with 6th Sense Live™ technology. Families can manage things such as "refrigerator temperature, locking your dishwasher control console, knowing when your cycle is done and managing energy costs". When my kids leave the refrigerator door open (like they do daily), I will get an alert even if I am not at home. This would enable a future where I don't have to worry about coming into my kitchen and noticing that the freezer door is open and ice cream is now in liquid form!  And  I would be able to save energy costs by using the mobile app to run the appliances during off peak times even if I was not at home. The Whirlpool CES press info explained "by connecting to the Smart Grid used by select utility companies, these appliances optimize energy usage and track how much energy is being used."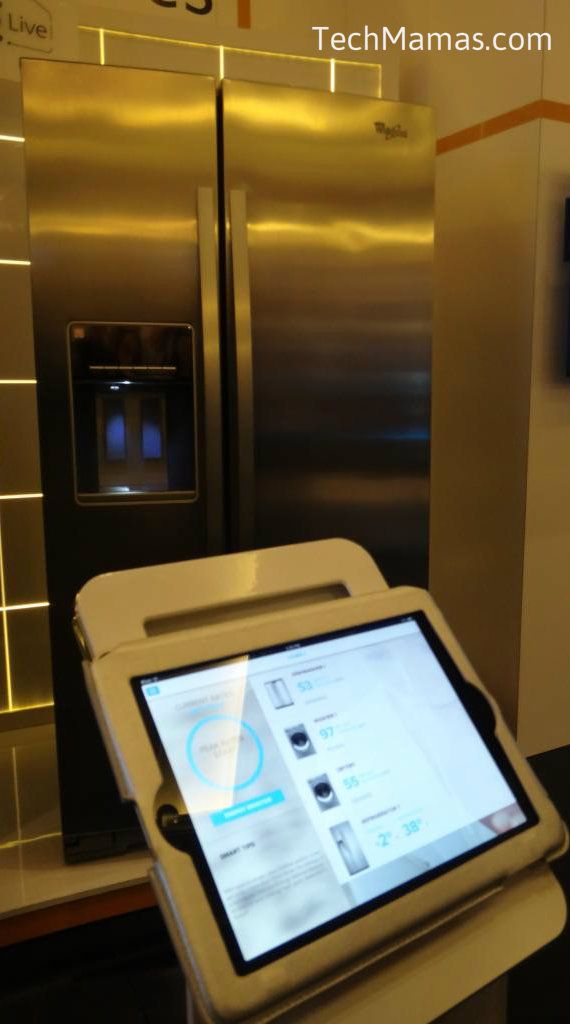 Anyone looking to create add beautiful art and modern, streamlined style to their kitchen will want to take a look at the Whirlpool Art Gallery Collection (stove) Hoods. There is a selection of 12 hood panels with original graphics themes that are easy to install. I especially appreciate incorporating art into appliances because I have a small kitchen.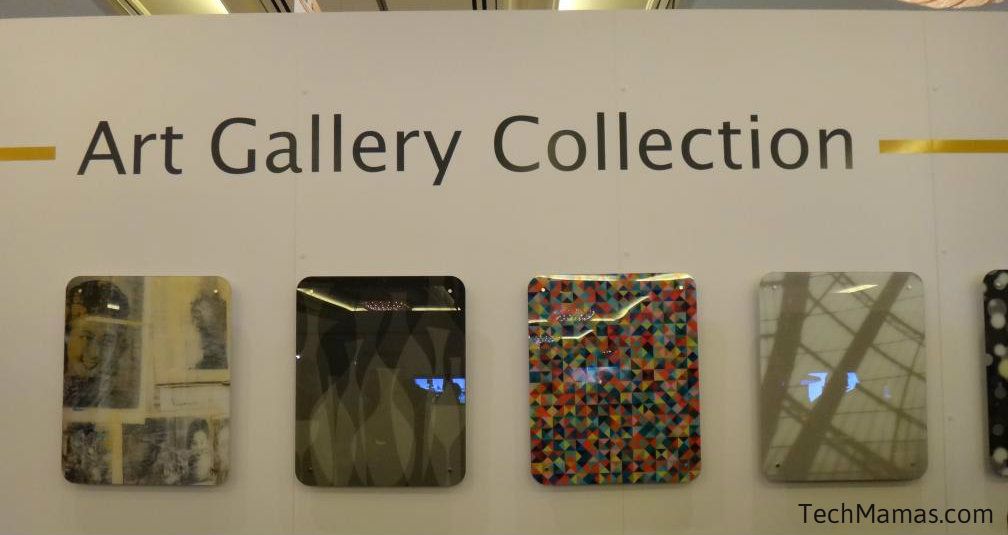 My favorite design: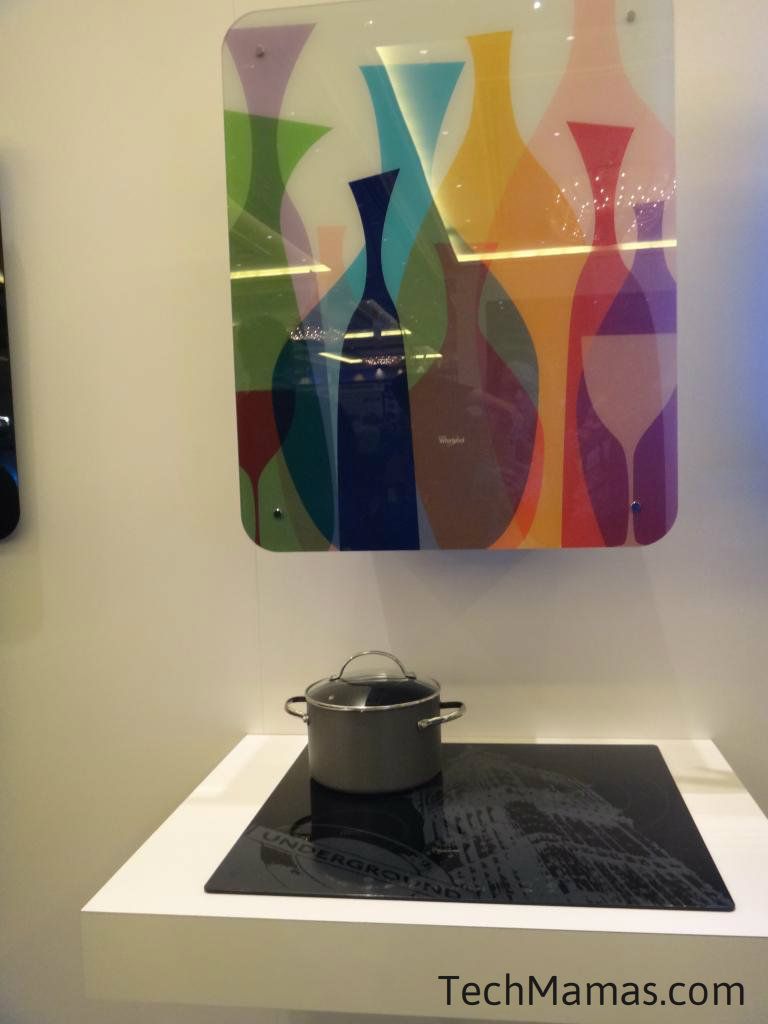 Another new concept that helps streamline kitchens by adding new features to appliances is the CoolVox refrigerator concept. Now, families can stream music or podcasts through the refrigerator directly from a Bluetooth-enabled device, so this means I could even listen to recipe podcasts while cooking.  Or my 10 year old son who loves to cook can rock out to his favorite tunes. When we are entertaining and everyone ends up in the kitchen as usual, at least we can play some music to enhance the event.
What do you see in the kitchen of the future? I see new features and appliances that will help me save time, simplify household processes and have more flexibility around how I manage my home. I can also see a future where mufti-function appliances allow me to save space,  add style to my kitchen and create new social environments to enjoy my family time.
Learn more about Whirlpool #2020 at their Tumblr, Twitter, YouTube, Facebook  and Pinterest pages.
Disclosure: This is a sponsored post. My words are my own.
Cooking and kitchen gadgets scare me. I'm not embarrassed to admit it… I'm tech savvy but kitchen challenged.  Consumer electronics are intuitive and easy for me to understand…. but cooking technology is another story. When the folks at Keurig asked me to join the Keurig Vue Twitter Party and receive a unit to review, I was excited to participate and finally conquer my culinaryphobia with the newest in coffee tech. Using the Keurig Vue, I concluded that making different hot beverages for all the members of my family is both EASY and yummy, and the technology is very impressive.
The Keurig Vue custom brew, single-serve beverage delivery technology allows me to brew coffee strong or regular, Latte with foam or iced tea, hot chocolate, hot tea and more. The high-tech brewer adjusts water pressure, timing, and airflow to brew to taste. The programmable settings offer temperature, strength and size selections so my husband can get his extra hot, extra strong coffee while I can have my tall regular coffee. The eight brew sizes range from 4 oz. to an 18 oz. travel mug. The removable 74 oz. water reservoir means that I don't need to fill the water every day or when we are entertaining many guests. Best of all, it brews each cup in under one minute, which I need with my busy schedule.
To keep on our eco-friendly roll (we just started composting), I appreciate that the Vue packs are made from recyclable polypropylene #5 plastic. I found the recycling locations by checking the Keurig Vue recycling website.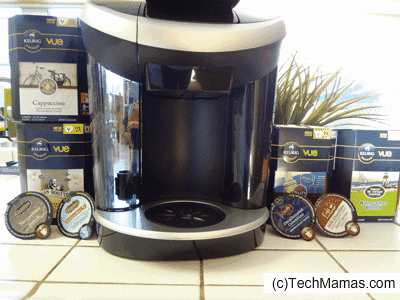 The individual Keurig Vue packs come in so many fun flavors including different coffee roasts, Cappucino, cocoa, and teas – who needs a coffee shop with these!  The press release stated the following choices:
"Vue™ packs will debut with more than 30 varieties representing a mix of brands and taste profiles including Green Mountain Coffee®, Barista Prima®, Tully's®, Coffee People®, Gloria Jean's®, Green Mountain Naturals™, Café Escapes®, Caribou Coffee®, Celestial Seasonings®, Emeril's®, Newman's Own® Organics, Timothy's® and Van Houtte®.  In addition, exclusive to Vue™ is GMCR's newest beverage innovation, two-step Barista Prima Café beverages, which includes separate dairy frother packs designed to deliver a high quality blending of premium gourmet coffee and creamy froth while maintaining the convenience of Keurig® brewing.  GMCR expects of offer up to 50 varieties by the end of June."
The digital controls let me know both what I need to do and what step I am on. For example, when I turn on the Keurig Vue, the controls show me that the brewer is pre-heating.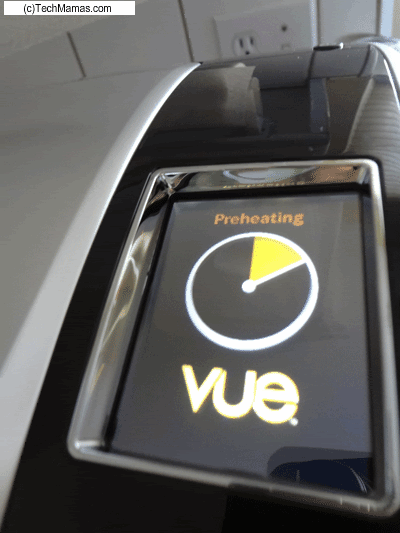 It is easy to pop open the lid to add the Keurig Vue pack of my choice when I am ready to brew.
Then I can select which beverage I am brewing, the strength and the beverage size. If I were brewing a beverage with froth or ice – then I would select that setting.
After I make my selection, I was happy to see that the controls show me that the beverage is brewing.
.
In under a minute I had myself a hot, yummy cup of coffee. It was easy enough for even culinaryphobias like myself to use.
The only frustration I had was that I raced to the store to buy more Keurig Vue packs last week  – then realized they are not coming out until early March. Ah…. such a dilemma… to be patient for great coffee.
The Vue Brewer press release provided information on availability:
"The Keurig® Vue™ V700 Brewer is the first of a planned Vue™ Series for home use. Currently available for purchase in Bed Bath and Beyond stores nationwide as well as GMCR's two consumer- direct websites (http://www.greenmountaincoffee.com and http://www.keurig.com), the Vue™ V700 Brewer and associated Vue™ packs will become more widely available in a variety of retail stores over the coming months. GMCR's new Vue™ Brewer and Vue™ packs will complement the current Keurig® platform and its K-Cup® packs."
Disclosure: I was compensated to participate in the Keurig Vue Twitter Party on February 16, 2012 and received a Keurig Vue unit to review. All of my opinions and words are my own. This is my first experience with the Keurig System and just received the unit. I will post an update after I have taken it for a full test drive.